Maybe you'd rather make your own CBD lotion instead of buying it online or in a store. At least this way you can customize it however you want. Add essential oils for any fragrance you want. This particular recipe is very easy to modify. For the health benefits of CBD click
here.
Ingredients
½ cup Shea butter
½ cup Coconut oil
⅓ cup Aloe Vera gel
2 tbsp vegetable glycerine (optional)
2 tsp concentrated

CBD oil

5-10 drops mint essential oil
10 drops of soluble Vitamin E

soluble in oil.
Simple, easy to find ingredients. No fuss no muss. You can add lavender or mint, pretty much anything to give a pleasant/fragrant smell. The smell of lavender relaxes some people and similarly, so does mint.
Equipment
Double Boiler                                 
A double boiler consists of a bowl placed on top of a pan of simmering water.The bowl does not touch the water, but creates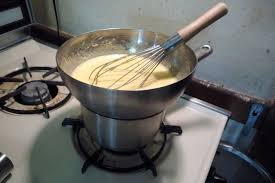 a seal with the bottom pan to trap the steam produced by the simmering water.
This is typically used where direct heat is not desirable. To avoid separation or burning of delicate ingredients, a double boiler is used. No need to buy one, just make your own. I think you have the idea now.
Other than that you will need, measuring cups, measuring spoons spoon, spatula, hand mixer or blender and a glass container. Now we have everything, so let's get a move on!
Instructions
Fill the bottom of a double boiler with an inch or two of water.
Warm water over low to medium heat. Add the Shea butter and coconut oil to the top of the double boiler.
Gently melt the Shea butter and coconut oil until there are no lumps, stirring frequently to combine the oils and prevent burning.
Turn off the heat and remove mixture. Transfer to a glass blender or heat-safe bowl.
Allow the oil mixture to cool for at least one full hour.
Add Aloe Vera gel, vegetable glycerine, your desired amount of mint essential oil and your CBD oil.
Use a hand mixer or blender to emulsify all ingredients and create a whipped texture
This lotion will be good for two weeks without refrigeration. Consider adding 10 drops of Vitamin E soluble in oil, to extend shelf life. This acts as a natural anti-oxidant and prevents it from oxidizing. Extra lotion can be refrigerated for one month or longer in an air-tight container. Simply let the mixture cool to room temperature before use.
You can customize this basic CBD lotion any way you want. In the future I'll post a few more DIY homemade CBD stuff. Keep coming back for more and check out the rest of the site for CBD products.