Serving: 10-12
Ingredients
Flaked Coconut – 1 ⅓ Cups
Sugar – ⅓ Cup
Flour – 2 Tbs
Salt – Just a pinch
Whites of 2 Eggs
Vanilla Extract – ½ Tsp
Butter– 2 Tbs (or any high fat butter).
Baking Chocolate or Chocolate Chips
Chopped Nuts (Optional)
CBD Oil Tincture or CBD Isolate
Macaroons
Preheat Oven to 325
Prep Your Baking Sheet or Biscuit Tray by greasing the pan.
Combine in a bowl Coconut, Sugar, Flour, and Salt.
Use your hands to gently mix and break up any clumps of coconut or flour.
Crack the 2 eggs and separate the egg whites from the yolk into another bowl.
Add ½ Teaspoon of Vanilla Extract to the egg whites.
Whip the egg whites very fast with a whisk until for a nice frothy blend.
Add the whisked egg white and vanilla extract mixture to the bowl of coconut and flour.
Combine the ingredients by tossing with wooden spoons until the dry ingredients have a light, fluffy appearance.
Scoop out single tablespoon size scoops of the mixture onto the greased baking tray.
Place the tray into the preheated oven for 15 to 18 minutes until the macaroons are golden brown.
CBD infused chocolate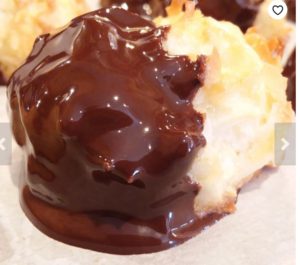 Prepare a double boiler with the bottom pan filled with water and a smaller pan placed above it. Bring the water to a boil and add the butter to the top pan and let it melt. Add the desired amount of CBD from either a tincture or isolate.
Once the butter has melted, add the chocolate to the CBD butter in the bowl.
As the chocolate melts, fold it gently into the butter using a spatula until you achieve a shiny mix. Allow this to simmer while you prepare to dip the macaroons.
Remove the Macaroons and let them cool on a wire cooling rack.
Once cooled, hold the macaroons from the bottom and dip the tops gently into the Chocolate CBD Sauce. If you want them to be stronger, you can double dip.