DIY Hemp Beeswax Salve: Simple & Easy
If you ever wanted to make your own CBD/Hemp salve and customize it according to your needs, here's a simple recipe. You can add peppermint, jojoba oil and any other essential oils you desire. This is a simple recipe to modify.
Ingredients
Simple, easy to find ingredients. No fuss no muss. You can add lavender or mint, pretty much anything to give a pleasant/fragrant smell. The smell of lavender relaxes some people and similarly, so does mint.
Equipment
Double Boiler                                 
A double boiler consists of a bowl placed on top of a pan of simmering water.The bowl does not touch the water, but creates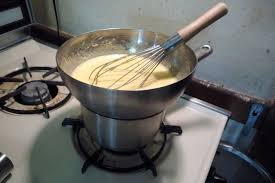 a seal with the bottom pan to trap the steam produced by the simmering water.
This is typically used where direct heat is not desirable. To avoid separation or burning of delicate ingredients, a double boiler is used. No need to buy one, just make your own. I think you have the idea now. So hop to it.
Instructions
Combine the

Hemp oil

, copaiba oil, beeswax, and Shea butter together in a double boiler (see above)
Heat over medium heat until completely melted
Remove from heat and quickly pour into tins
Let salve harden, and store in a cool, dry place
Color may look a little different, but who cares, as long as it works. You can customize this basic salve any way you want as stated earlier. In the future I'll post a few more DIY homemade CBD tincture/salve recipes, so stay tuned.